Play the squiggle game in a video call
Draw a squiggle. The other player has to turn it into a picture.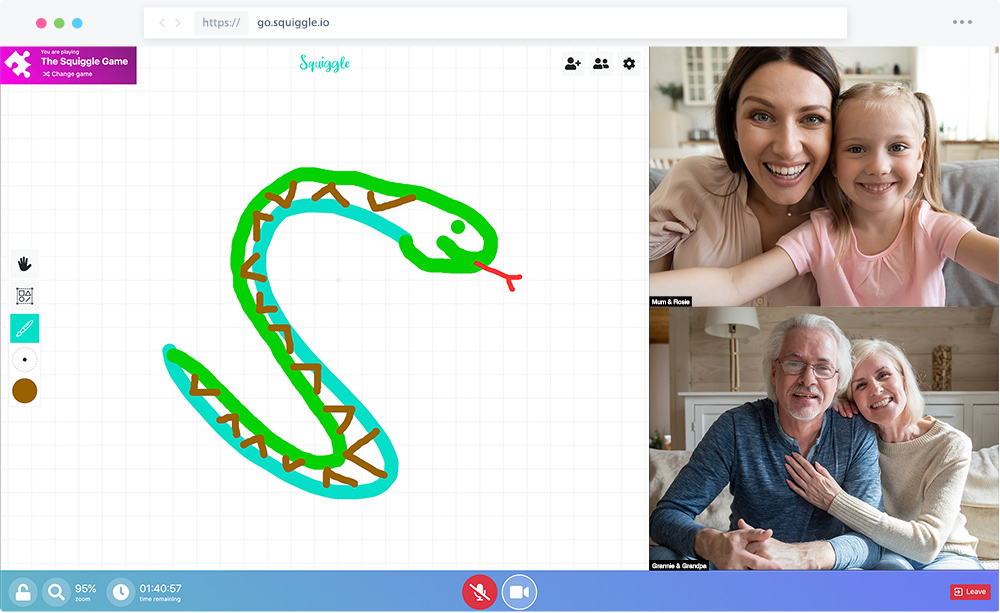 ---
---
---
The Squiggle Game
The Squiggle Game, also known as Squiggles, is what Squiggle was made for!
We used to play this game with our children while waiting for a doctor's appointment or in a restaurant on the back of a napkin.
It is super simple and will really test your creativity. Plus it is great fun.
Often you'll be amazed at what the kids will create.
How to play The Squiggle Game
The Squiggle Game is ideal for two players, but if there are more of you you can simply take it in turns or even play simultaneously.
Just follow these simple steps:
Draw a quick random squiggle on the canvas
The other player then has to turn it into a picture of something
Tip! You can use the Select tool to move and rotate the squiggle, just like you can with a real piece of paper.
Take it in turns.
It's just for fun!
Watch our quick, little demo video to see how it works:
Benefits of The Squiggle Game
Creativity and art is a great way for children (and adults!) to express themselves. Art in itself is known to help promote mental health and this has never been more important.
The Squiggle Game is very quick to learn and can be enjoyed long before children learn to express their emotions and feelings.
But above all it is just good fun!
Tips for adults
Remember this is just for fun, so don't create any pressure to get it perfect.
Get involved and get creative yourself. Maybe you should go first?
Make sure you give positive feedback on whatever they create, even if you've no idea what it is!
Ask open-ended questions about what they've drawn like "This is lovely, can you tell me about it?"
Keep it quick and easy flowing. It doesn't need to be a masterpiece.
Don't worry if it doesn't turn out just right, just create another one.
The history of The Squiggle Game
It turns out that The Squiggle Game wasn't invented by my father-in-law as a way to keep his daughter entertained in the pub!
It's actually a pencil and paper technique designed to help elicit children's thoughts and feelings. It was first described by British pediatrician / child psychiatrist Donald W. Winnicott back in the 20th century.
Winnicott, as we do, believed in the important of play and creativity. His aim was to enable children to live in a creative and authentic way.
To this day parents, grandparents and professionals around the world still play The Squiggle Game as a fun (and insightful) game to play with young, school-aged children.
Parents and carers may just play it for entertainment purposes, as we used do in restaurants. And professionals, such as pediatricians, will play it to help a child articulate their feelings and perceptions that they wouldn't otherwise be able to express.
Whatever you use it for it is timeless fun!
---
---