Play wordsearches in a video call
Play together to find the hidden words in the grid.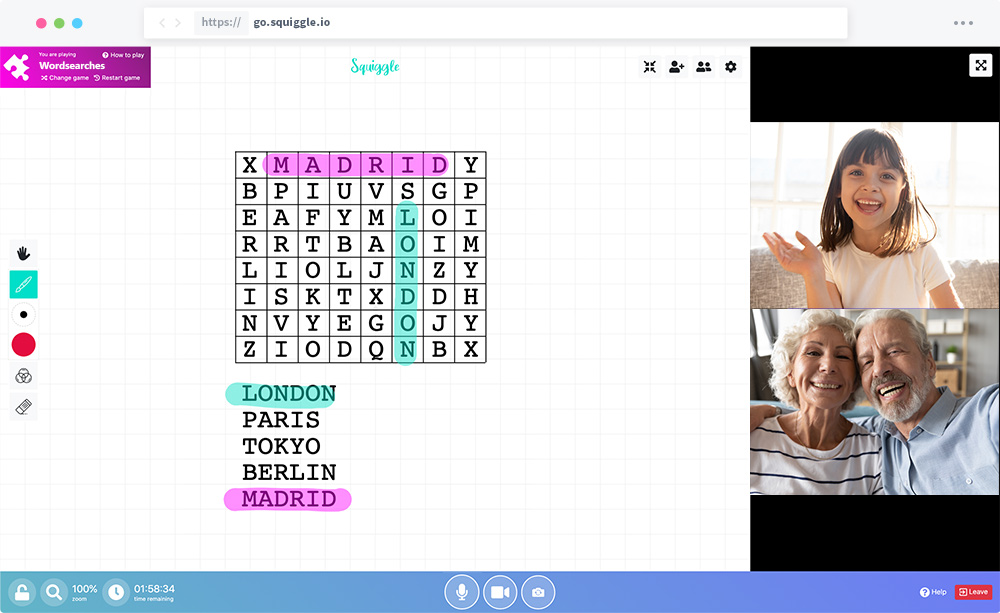 ---
Play wordsearches in a video call
A word search, word find, word seek, word sleuth or mystery word puzzle is a word game that consists of the letters of words hidden in a grid.
The aim of the game is to find all the hidden words. It can be harder than you think!
Great for kids who can read and are learning to spell.
You can play alone, work together or add multiple wordsearches to the canvas and have a race!
How to play wordsearches
Wordsearches are built in to Squiggle.
The squiggle host should start the Word Search game mode. Players can then choose a word search from the options and add it to the canvas.
Use the pen tool to highlight each word as you find it.
Create your own wordsearches
Coming soon to Squiggle!
Soon you will be able to create your own wordsearches.
You can get creative. Family members? Favorite cars? Dinosaurs? Whatever you like.
---
---