Laugh, draw and play together
however far apart you are
Connecting kids with grandparents and friends for free with Squiggle's interactive video calls
Play for free now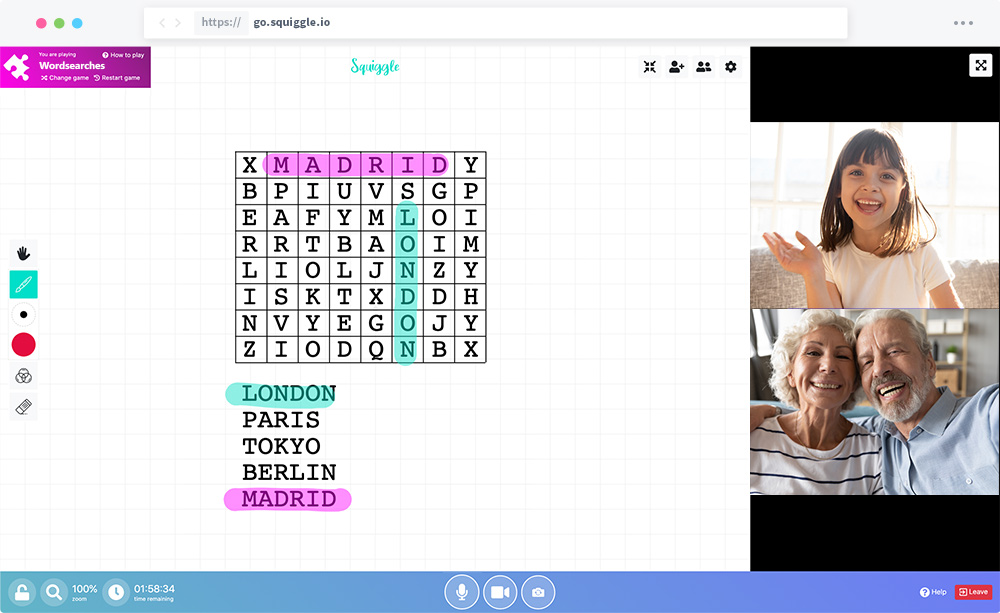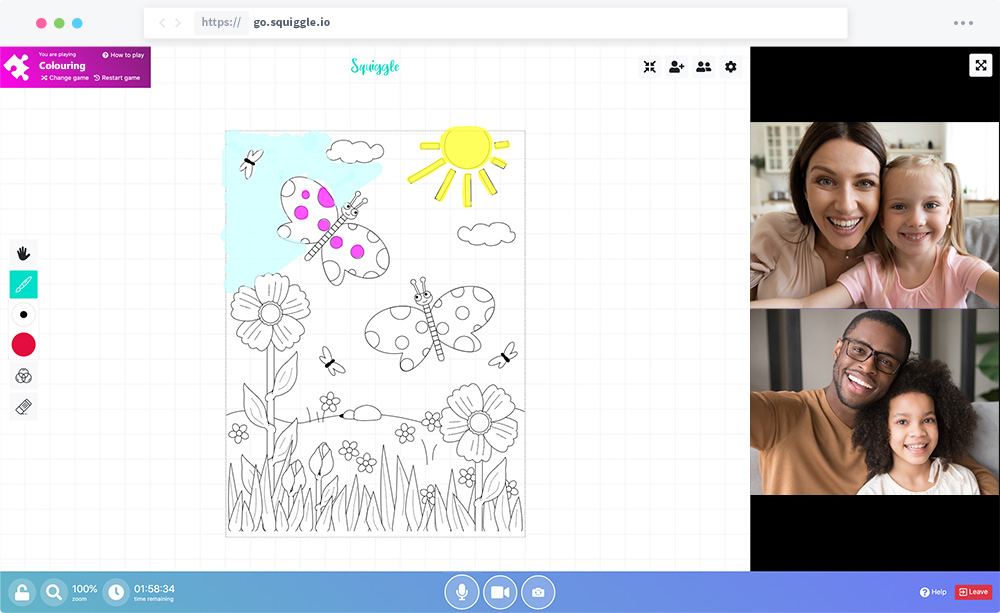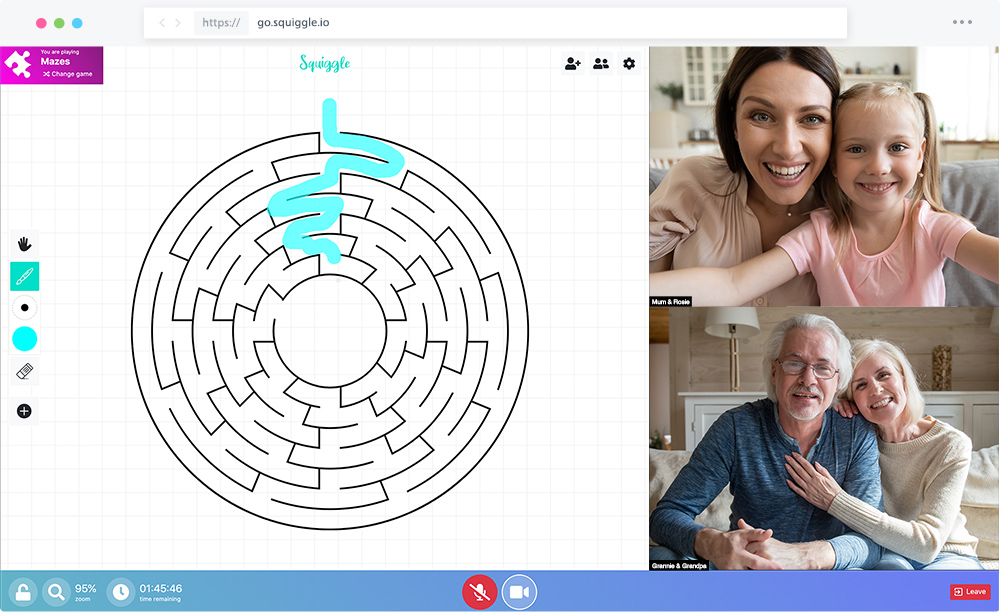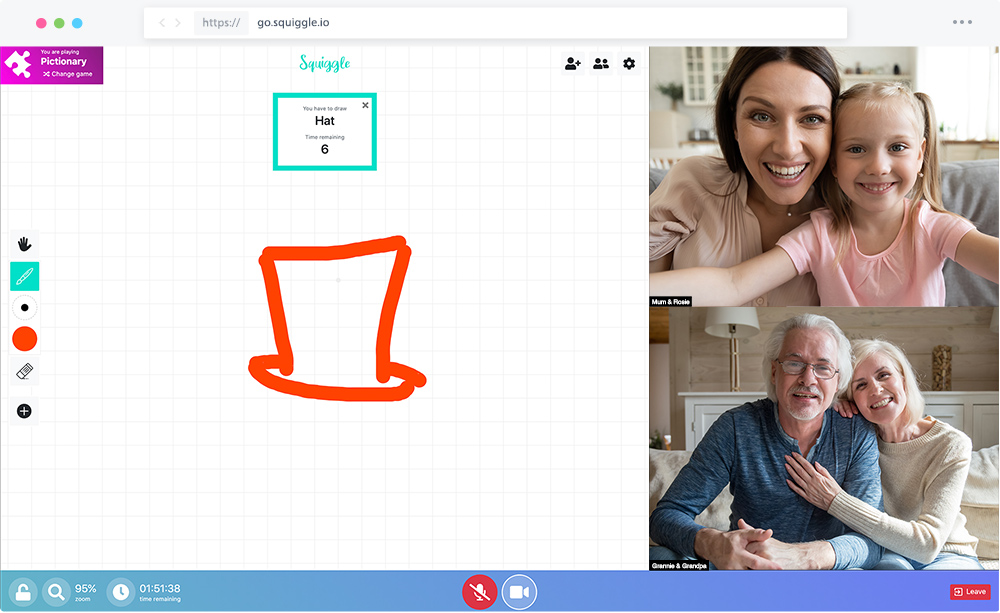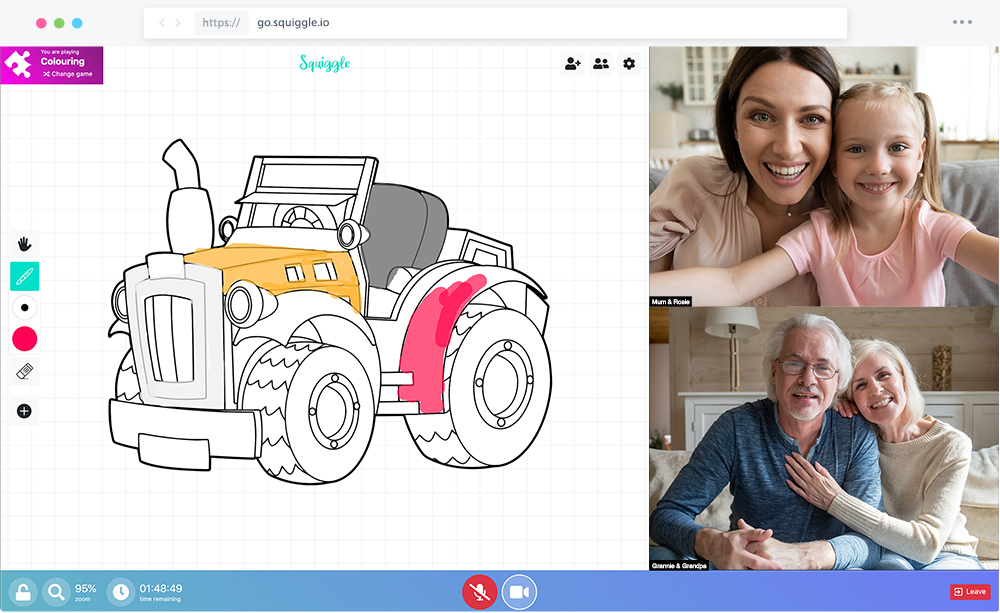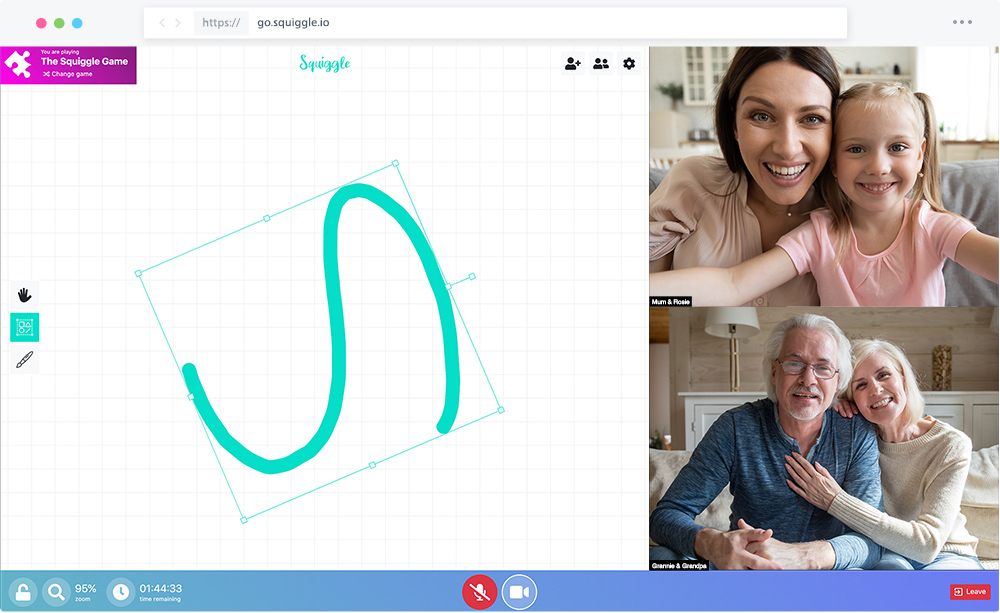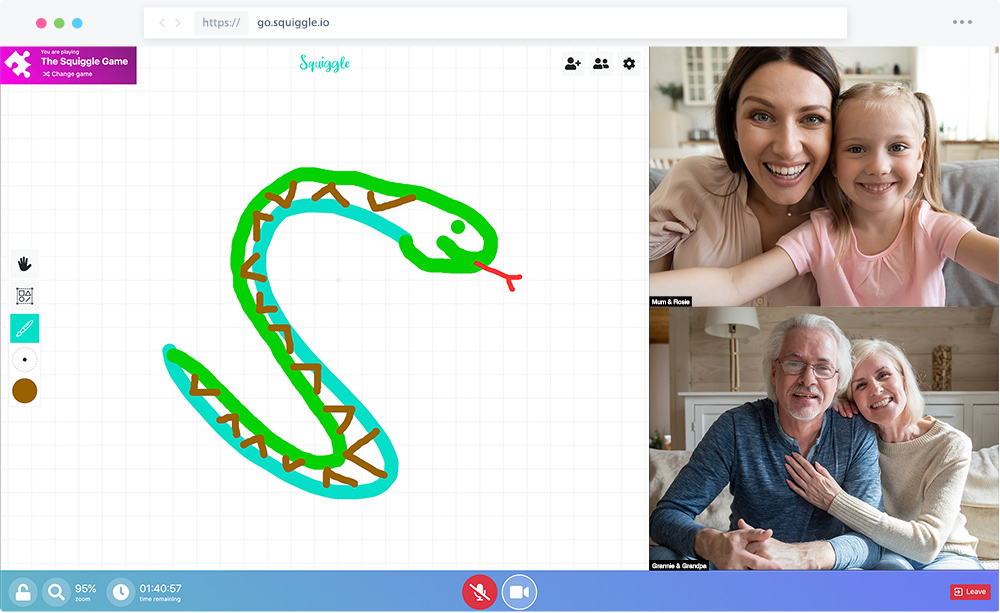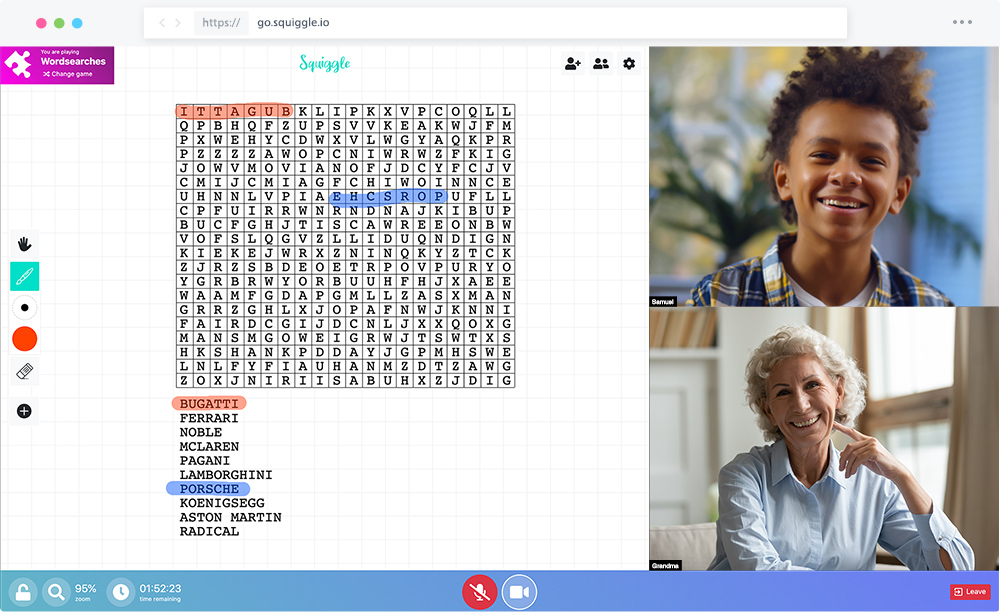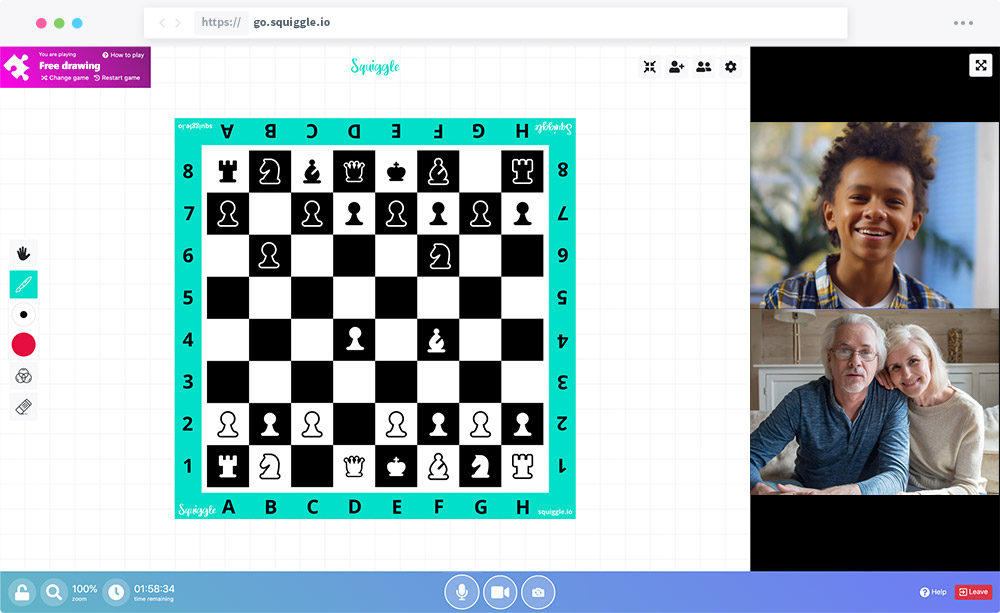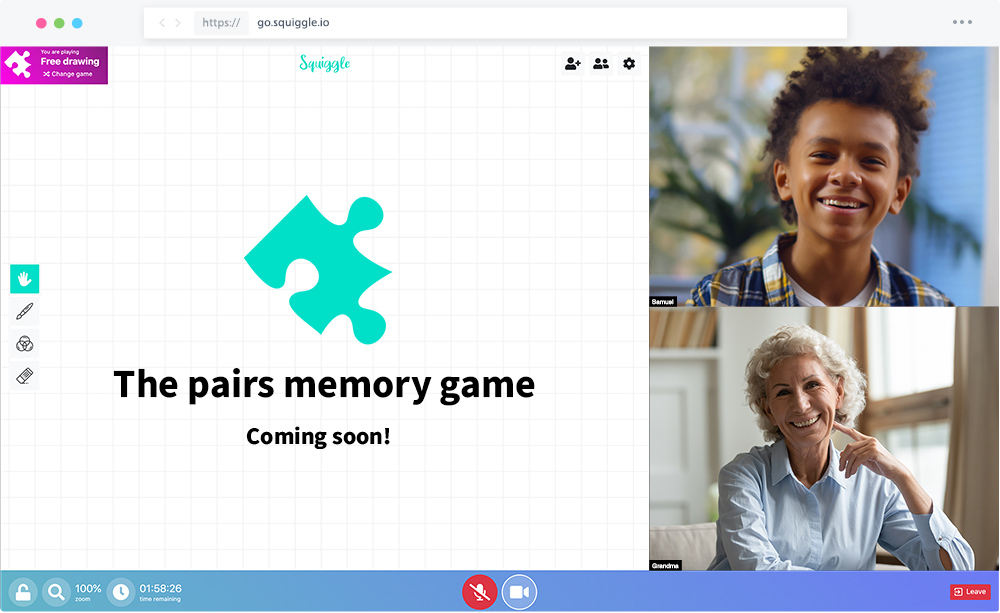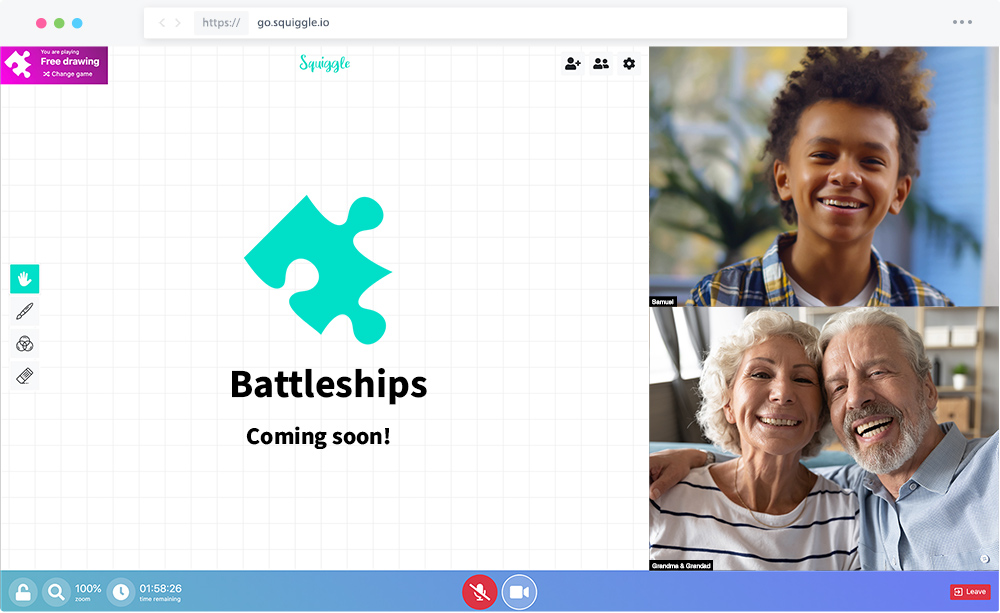 Supporting the wellbeing of children
Study after study show that a top priority for a child's wellbeing and happiness is having positive, supportive relationships - particularly with friends and family.
Talking to the people we love is vital
This is equally important for adults too, particularly those who live alone, are isolating or simply live far away from their grandchildren – half an hour connecting with a child they love can be the difference between a good day and a hard day.
But it isn't always easy for a child to engage in a meaningful way in a phone call or video call. And it isn't always easy for an adult to keep them engaged.
Squiggle makes video calls fun for kids (and adults!)
Playing, drawing and getting creative together with Squiggle's interactive video calls helps kids relax while talking, allowing them to open up and have fun with the people they love the most.
How to play
It's a piece of cake to start playing Squiggle!
Just follow these three simple steps:
1
Host a squiggle
Create your squiggle, start your camera and get your unique access codes and invite link.
As the squiggle host you'll be in control.
2
Invite your friends and family
Share your access codes or invite link with the people you want to squiggle with.
Your squiggle is private and people can only join if they have an invite.
3
Starting squiggling
Once your friends have arrived start squiggling!
Whatever you draw on the interactive canvas will be instantly visible to everyone in real time.
Games
Squiggle is perfect for playing any pencil and paper drawing games, but we also offer some special game modes.
Chess, draughts, battleships and the classic pairs memory game are coming soon!
Wordsearches
Find the missing words. Easy, intermediate or difficult. You can even create your own!

Pictionary
Draw the secret word. We'll give you the words and a timer. Great fun!

Mazes
Find your way through the maze. Great for young kids.

Coloring in
Choose a picture to color in together. Great for young kids.

The Squiggle Game
Draw a quick squiggle. The other player has to turn it into a picture. Great for young kids.

Tic-tac-toe
Simple. Easy to learn. Great for young kids.

Hangman
Guess the word. Great spelling practice. Good for kids who can read and write.

Whatever you like
Get creative!
Pricing
You can play for free but if you want access to longer calls and more features you can subscribe.
Billed monthly. Cancel any time.
Guest
No sign up required
Secure video calling
30 mins per session
Up to 2 participants
Free drawing
1 x wordsearch
1 x coloring
1 x maze
1 x join the dots
Play for free
Basic
Billed monthly. Cancel any time.
Guest plus...
No ads
Up to 1 hour per session
Up to 4 participants
5 x wordsearches
5 x coloring
5 x mazes
5 x join the dots
Sign up
GBP £3.99/mo
EUR €4.99/mo
Premium
Billed monthly. Cancel any time.
Basic plus...
Up to 2 hours per session
Pictionary
Chess

Soon!

Battleships

Soon!

Pairs

Soon!

Unlimited wordsearches
Unlimited coloring
Unlimited mazes
Unlimited join the dots
More colors
Resume any session
Sign up
GBP £4.99/mo
EUR €5.99/mo
Great on touchscreens
Squiggle works brilliantly on touchscreen devices, especially tablets. It's super intuitive for kids to draw with their fingers.
Touchscreen-friendly

Nothing to download

Free to play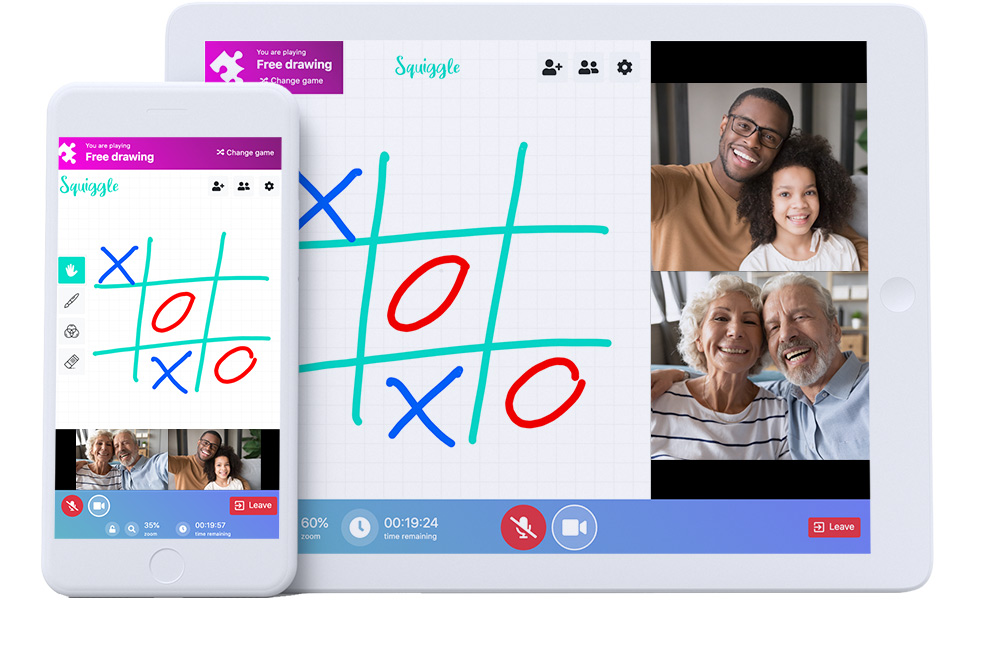 Inspired by lockdown
Squiggle was born out of watching my two young children trying – but struggling with – the strange new, awkward world of video calls during the Covid-19 pandemic.
Seeing how much they wanted to be with their grandparents and friends (and vice versa), and how deprived of this important contact they suddenly were, got me thinking back to simpler times. The 'tic-tac-toe' and 'hangman' pencil-and-paper games I loved playing as a child with my parents. And how my wife Jo would squiggle on a napkin and challenge our kids to turn it into a picture if they started playing up in a restaurant (a game she used to play with her dad).
As a web developer I realized I could recreate the pencil-and-paper experience online and provide a safe, secure space where loved ones can still play with, talk to and entertain the children in their lives, wherever they are in the world.
What I didn't anticipate was how much Squiggle would benefit my wife and me – and in turn our friends and their families! Before we knew it the kids were asking to 'Squiggle Grandma and Grandad' and we suddenly found an hour or so a day of "virtual" childcare while we worked from home in lockdown.
Nothing can replace the physical time kids spend with their friends and families, but at a time when connection and hugs are so limited, I hope Squiggle can help.
Dan
Chief Squiggler Word on the street
Squiggle has been enjoyed by many people already. This is what they said:
Squiggle has allowed my kids to have hour long calls with their grandparents instead of 5 minutes. Free childcare!
I love seeing my grandchildren and their big smiling faces when we play Squiggle together.
I love playing Squiggle with my friends. I'm the best at tic-tac-toe now!
My kids are so much more engaged when they play Squiggle compared to Zoom. It's lovely to see.
I love watching my granddaughter draw and create. She's too young for proper games, but she loves making pictures with me.